Born in England, Chris Phillips pursued the art stream at high school. Already a committed car enthusiast he attended his first motor race at the now defunct Crystal Palace circuit in suburban London during the summer of 1955. Often unable to afford the admission, Chris would sit on his bicycle and watch the racing action through the fence.
Chris Phillips Automotive Art
When in his mid-teens the family emigrated to Canada where Chris still resides. Quitting school Chris started work in an advertising agency, using the art training he had received in England. The purchase of his first car, a 1954 MG TF, enabled Chris to attend races at Harewood Acres, Watkins Glen, Waterford Hills and the newly opened Mosport Park. The closure of the agency meant a job change and a weekend job at a service station became full time. Chris acquired some useful mechanical skills and kept his hand in artistically painting numbers on the owner's racing Austin Healey. The MG was replaced by a 1953 Jaguar XK 120 DHC, a car Chris still owns today. At this time art was on the back burner, although a couple of works were commissioned by patrons of the station.
Chris Phillips Automotive Art, Racing Art The obligatory hitch hiking tour of Europe, extended by an eighteen month stay in England, took Chris to races at Brands Hatch, including the Boxing Day meeting where famous racing drivers of the day played Santa Claus each year. Upon returning to Canada Chris decided to go back to university as a mature student. After graduating with a BA and MA in History he commenced a ten year sojourn at a local community college, initially as an instructor and later as an administrator. The Jaguar, dormant while Chris was at the university, was treated to a new clutch, wiring harness, frame repair and bodywork.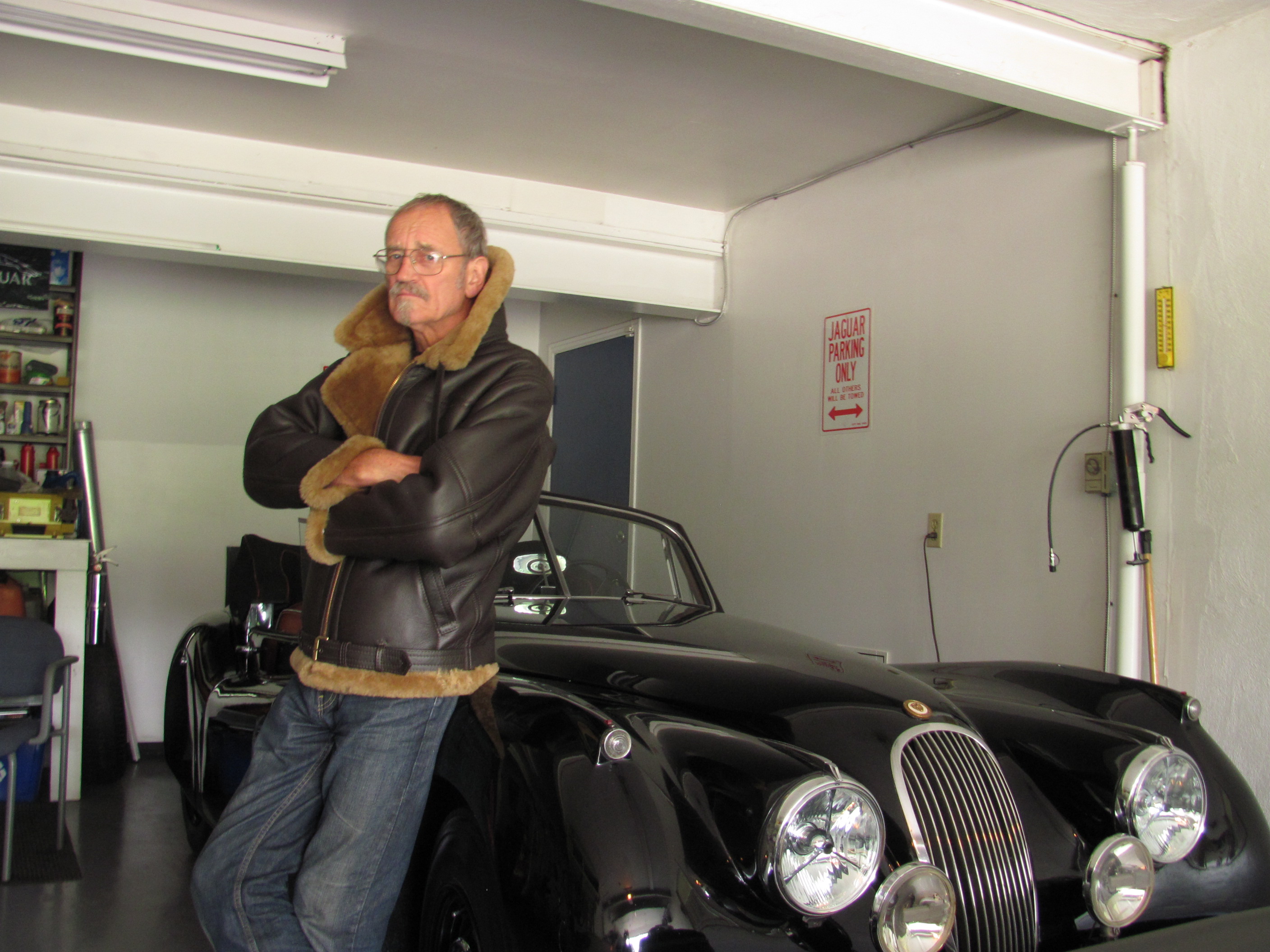 As a gift to a friend who had helped with the Jaguar restoration, Chris completed a painting of the Jaguar that won the 1988 Daytona 24 hours race. The friend commented: "Two things: first, you haven't lost your touch, second, you should do this full time." The seed was sown and, a couple of years later, Chris, with his wife's support, quit his job and started painting on a regular basis.

Painting antique, classic, sports racing, Formula 1 and Indycars virtually exclusively, Chris received an Award of Merit at the 1996-97 Art of The Automobile competition sanctioned by the Automotive Journalists Association of Canada (A.J.A.C) A member of the Guild of Motoring Artists his work can be seen on the Guild's website, www.motorart.co.uk. Residing in Ancaster, Ontario with his wife Karen when not painting Chris enjoys driving and maintaining his classic Jaguar.